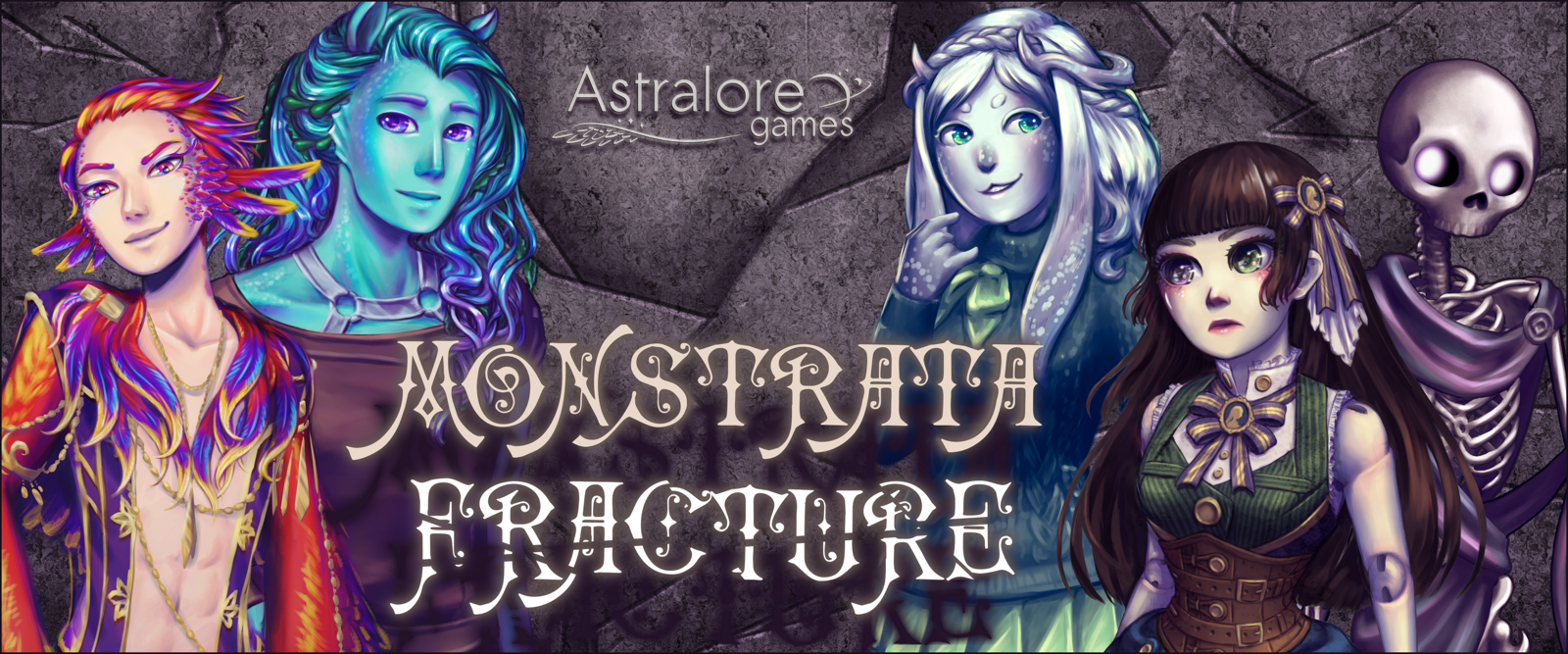 Monstrata Fracture
Hello everyone!
This took a lot longer than we planned! But we made a lot of improvements and we hope you'll appreciate the game looking all spiffed up.
Is it as cleaned up as we'd like? Well, not quite. But it's as cleaned up as we had hoped to make it back in December, and moreso even. We'll continue to add changes and updates to it as we go!
So what's in this update?
In the last devlog, I promised a lot of stuff, like updated backgrounds, character expressions, background character silhouettes, and an updated GUI. I'm happy to say that we've put in all of those things - and MORE!
The game now sports a massive variety of expressions for the love interests, along with speaking animation! (Edit: Unfortunately, we forgot to set the text speed for this build, so if you want to see the speaking animation, go into your game preferences and turn down "Text Speed")

There are also nine unique silhouettes for the background characters that have speaking lines! Some of these will be updated to be full sprites at a later date, as some of these have the potential to become love interests themselves!
Other things we didn't promise, but did anyway: Music! The game was severely lacking in the audio department, but I didn't want to make promises until I could be sure this would be an attainable goal for us right now. But this update provides the game with a nice assortment of background tunes - and we're working with a composer to add some unique tracks as well!
MC's face!! That's right, you can finally see what you look like - and customize it! A side image of MC appears whenever they have speaking lines, and at the beginning of the game you'll be prompted to make some design decisions for them. Choose long hair, short hair, skin tone, accent color, and gender! As of now, the hair length will default you to male or female, but you can easily change this by clicking the little "M*?" or "F*?" icon to the right of your character image in the customizer for a lovely variety of pronoun options!
On top of having a real face, MC has their own set of expressions, so you can see their reactions to the world around them!
Beyond that, there are a couple small added scenes and line edits - nothing major, plot-wise.

Content update when?
As I said, there's not much new plot content in this update. Right now, we're doing a bit of a plot overhaul (this did start as a jam game, after all) but we're aiming to roll out a 15k word content update every two or so months until the game is complete, with the hope that we'll be done by the end of the year.

Will it cost money?
Last time, I said that we were planning to make the extended game a paid game and that extra routes would be paid DLC. I'm rescinding that statement now. We've decided that all of Monstrata Fracture's content will be free, with only a few minor exceptions. There will be some small paid DLC, such as the glasses DLC and the digital artbook, but none of the plot content will be paid DLC.
How can I support this game?
Everything you do to interact with us or our product helps support it. Donating to the project is always very appreciated, but there are a ton of free ways to support, too!

Leaving us a good rating, commenting on the game page, sharing the game with your friends, cheering us on in our Discord server, interacting with our social media pages (Facebook, Twitter, Tumblr) - any of these things will help put this game in front of more people and encourage us to keep working on it.

We're also looking at getting a Patreon and an online storefront to sell physical merch, so if you want to sport some Monstrata swag, that would be a great way to support us too! We're hoping to have some small amount of swag available at PAX East - if you'll be there, come stop by our booth in the Diversity Lounge, where we're being hosted by the awesome Jay Justice!
Files
Monstrata Fracture - Mac
161 MB
Version 1.0.10
Apr 01, 2018
Monstrata Fracture - Windows, Mac, Linux
188 MB
Version 1.0.10
Apr 01, 2018
Monstrata Fracture - Windows + Linux
179 MB
Version 1.0.10
Apr 01, 2018
Monstrata Fracture - Linux
138 MB
Version 1.0.10
Apr 01, 2018