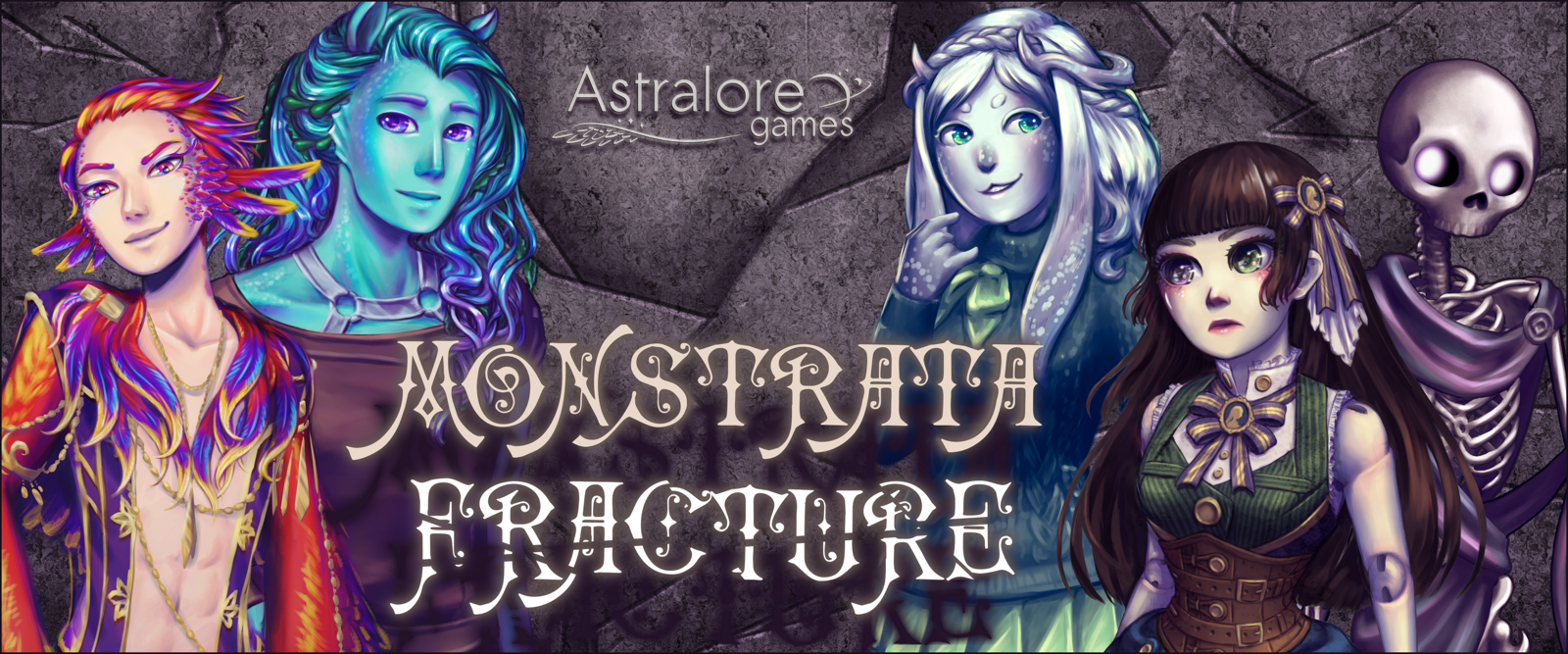 Monstrata Fracture
It's been nearly a month since we released the jam version of Monstrata Fracture! We've been hard at work cleaning up this version for the polish update, and we're looking forward to showing it to you! If you have questions about how the update is going, maybe this post can answer them for you.

When is the update?

I can't promise an exact date at this time, but we definitely plan for the update to occur sometime this month. I'll make another post as soon as we make the update!

What's going in the update?
Some things that you'll see in the updated version will be:
Cleaner, more properly sized backgrounds
As of this posting, all backgrounds are already finished and ready for the update!
Character expressions
You have surely noticed that the characters have mostly static expressions. Fear not! In the polished update, we'll be showing off a variety of expressions - our system allows each character to have hundreds of expression variations! Get ready to see the wide variety of ways that Nikolai can smirk! As of this posting, about 1/4th of the expressions have been implemented.

Background character silhouettes
Right now, there are a lot of background characters that have speaking lines but no sprites whatsoever. While they still won't have full-color sprites like the main characters, they will have unique silhouettes, with the potential for full sprites later in development! As of this posting, all silhouettes for the jam version are complete.
Updated GUI
The current GUI is kind of rough and ugly in some places, so our lead developer is giving it a major overhaul! As of this posting, the GUI overhaul is about half complete.

No content update?

Not yet. While we do have about 20k+ words waiting to be put into the game, implementing it will take a lot more time. Right now, we're just focusing on getting the current version polished up! Rest assured that the rest of the script will be implemented, just not in this update.

Will the updated versions also be free?

Yes. The impending polish update and content update will both be free. We have hopes of making an even longer version with more plot and more romance routes, which would be paid DLC, but the base game will continue to be free.

Is there other planned DLC?
Yes! With the polish update, we're hoping to drop two paid DLC files as well:

An artbook with initial designs of all the characters (including side characters!) and thoughts on the world and development. ($5 donation)
A 'just-for-fun' small add-on the the game which will allow you to give the characters glasses, which can be toggled individually for each character. ($1 donation
Where can I find out more?

Feel free to drop in our Discord server and chat with us any time! Alternatively, you can find us on Facebook, Twitter, and Tumblr!

Thanks for all your support!